European
Keep the original message of Yoga
22:25 - 23:53 (88 min)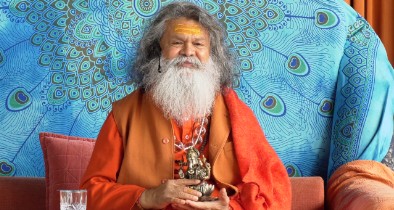 Morning satsang with Vishwaguruji from Vep, Hungary. We worship the Moon, the Sun and all of the creatures. One in All - the Jiva is everywhere. The speech of the Ambassador of India to Hungary Mr. Kumar Tuhin. It is important to keep the original message of the Yoga. It is Sanatana Dharma, India is the cradle of culture. If we are doing only physical asanas we are not going to be successful at all. Sanatana Dharma stands above the duality. Ayurveda and yoga are much elder than five thousand years.
American
Going to Brahmaloka
21:55 - 22:54 (59 min)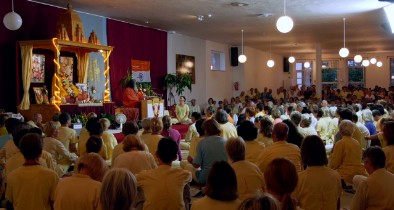 Evening satsang with Vishwaguruji from Strilky Ashram, Czech Republic. Yoga in Daily Life is not only physical exercise, it is a complete session of yoga. Sarv Hitta asanas are suitable for beginners, and they are very good in old age. In Hatha Yoga there are six cleansing techniques. We want to enjoy and go to the Brahmaloka. But without renunciation, we can't go there. From Brahmaloka, Earth is like a little seed.
Around the world - Yoga Class of Level 3, Zagreb, CRO
23:00 - 23:59 (59 min)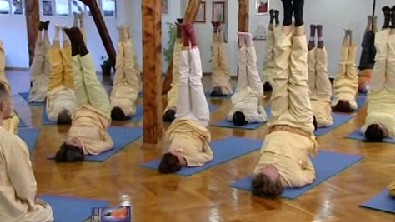 Yoga in Daily Life Class of Level 3 at Sri Devpuriji Ashram, Zagreb, Croatia, January 2011
Australian
We need real dedication
21:45 - 22:43 (58 min)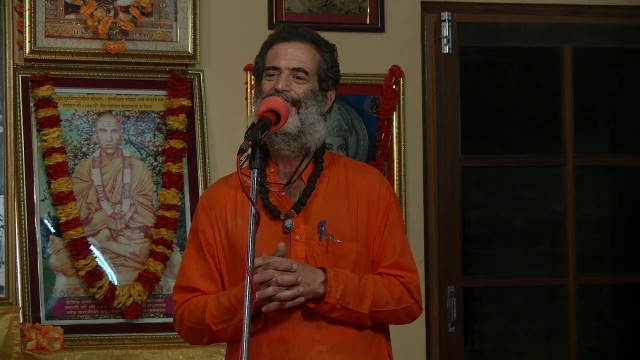 Evening Satsang with Vishwaguruji from Jadan Ashram, Rajasthan, India. There are two kinds of people living separately or in the family. Orange dress means renunciation. The story about two brothers one of them was studied and the other lived a spiritual life alone in a forest. There are two kinds of bhava. One is where there is some wish and the other has no wish. Birds know that there is their child in the eggs. Swami Haripuri speaks about his daily life and his spiritual experiences in different Ashrams.
Guru and disciple
22:50 - 23:22 (32 min)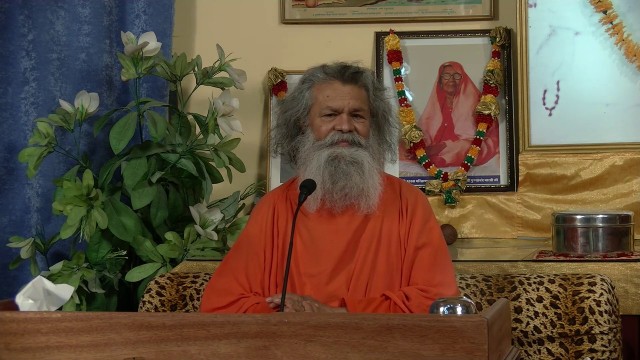 Evening satsang with Vishwaguruji from Jadan Ashram, Rajasthan, India. Guru kripa is a blessing that is more powerful than anything. When somebody dies who was near us he or she will live further in our heart. Satagurudev is in every bhaktas heart. Only one satagurudev can be for a person. Gulabji speaks about the Guru and the disciples and the connection between them.
Purify your body and eat proper food
23:30 - 0:27 (57 min)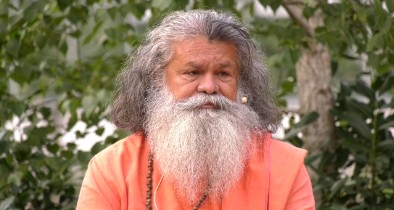 Evening satsang from Strilky Ashram, Czech Republic. Kriya Anusthana regenerates our body like kaya kalapa, and supports our spirituality. Our body needs tolerance. People who eat meat have problems with their joints and their memory. Eat pure ghee instead of butter. Every product of a cow is very good, except the meat, if she is a healthy and happy cow. One in all and all in one, only the cultures are different. By following kaya kalapa principles and techniques, all the organs will be very healthy.