European
Chakras and Kundalini
19:15 - 21:09 (114 min)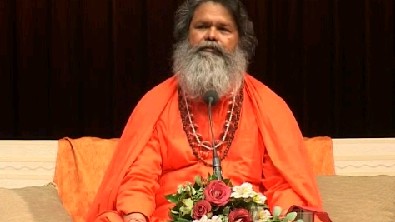 Public lecture by Swamiji from Zagreb, September 2004
Feel oneness and protect all creatures
21:15 - 21:45 (30 min)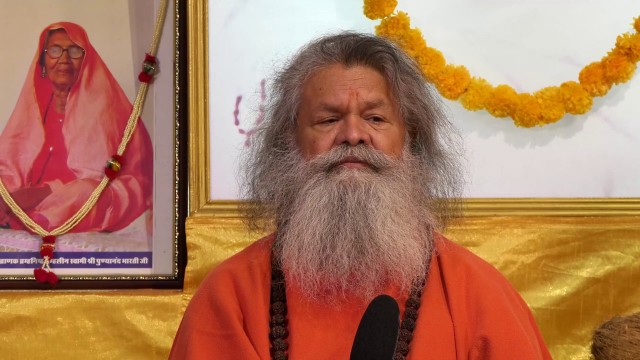 Evening satsang from Jadan Ashram, Rajasthan, India. In our bodies, there is God itself. Animals are eating each other. Some of them eat only grass. They are closer to God. When we were born we only drank milk. Eating meat is a sin. We shouldn't kill and eat animals. We should understand the pain of the animals also. We know what a hard life Jesus had and we feel him in our hearts. All great saints were suffering very much but they were hard. Our soul is part of God. The water is also gone from the ocean and comes back to it again. Before eating we pray for God. We should think of any God and feel love peace and harmony.
The materialized OM
21:50 - 22:12 (22 min)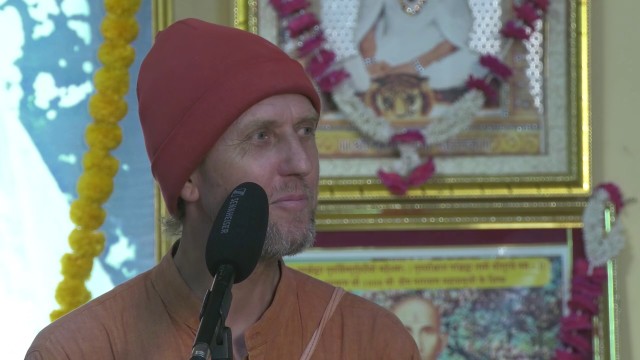 Evening satsang with Vishwaguruji from Jadan Ashram, Rajasthan, India. Swami Premanand speaking about the preparation of the official opening of OM Ashram: he speaks about The great work and a big change what happened to on that area. Now there is the time to reach the final realization of Vishwaguruji's divine dream. He invites everyone to help to work and to live in Jadan Ashram.
At the roots of our Parampara
22:20 - 23:52 (92 min)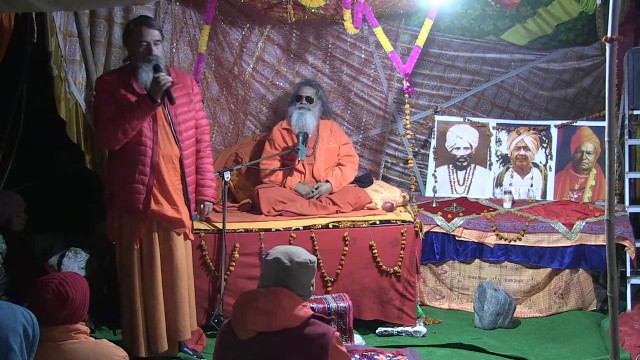 Evening satsang from Himalaya. Swami Dyaneswarpuri said that we should use our name Yoga in Daily Lide otherwise somebody else will do it. It is a big oportunity to visit in Badrinath with Vishwaguruji which is a very importana pilgrimage place in India. Sadwi shanti has felt love for her childhood towards mountens. She speaks about her journey in the Himalayas. She many times came back there and feel like her home. She tells her experiences in Sri Devpuriji's cave. Vishwaguruji's family had a brass plate which was special. There is difference between piano and harmonium. There are different customs when a girl or a boy is born in a willage. Vishwaguruji tells some stories from his childhood. Vishwaguruji has a rishi parampara in his family. Ravana was lerned but he has ego and desire. The story of Ravana and Vidhata Ravanas daughter and her husband. Furudev can change zhe desteny. Guru and disciple is one. In India there is living God. The story of Guruji and one of his discipe who w
American
We should have roots
20:55 - 21:54 (59 min)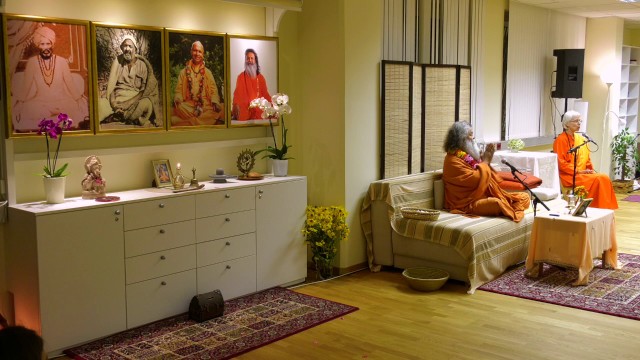 Evening satsang with Vishwaguruji from Nova Gorica, Slovenia. The technics taught by Vishwaguruji we should practise continuously. Always we have to give furthermore. Yoga should be taught in universities by yogis. There are 3 universities in India where there is teaching yoga. But there are many great different yoga centres yoga schools and Gurus and their traditions also. But in many universities teachers don't know about real yoga. We should have roots in the world and in yoga too. In universities, many things are destroyed in yoga. Nowadays families don't function as good as in the older times. Our root is in Alakhpuriji. The 84 original asanas are coming from the animals and from nature. After death, the soul goes very quickly out from the body and try to go back to its origin. We don't know where and when we will come back again. A drop of water goes from the ocean and after a long time, it goes back there again. Yoga is a science but only our practising can bring us to the supre
Try to be nirmohi
22:00 - 22:36 (36 min)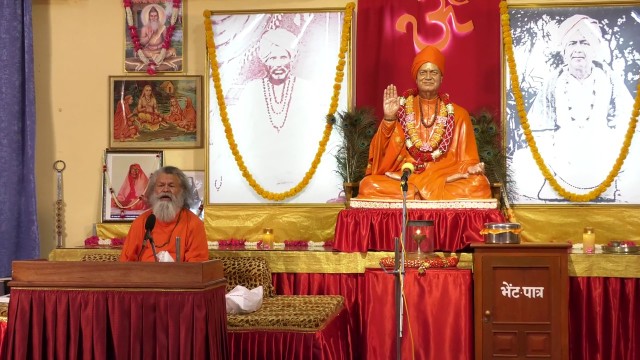 Evening satsang with Vishwaguruji from Jadan Ashram, Rajasthan, India. We should respect our mother earth otherwise we will suffer. Our mother earth is also suffering. We ruin our seeds and earth with chemicals. We should go back to the natural way. Seva is more important than moksha for God. The story of Nirmohi Raja and a sadhu. Karmas are binding us and give us attachment.
Never eat meat
22:40 - 22:59 (19 min)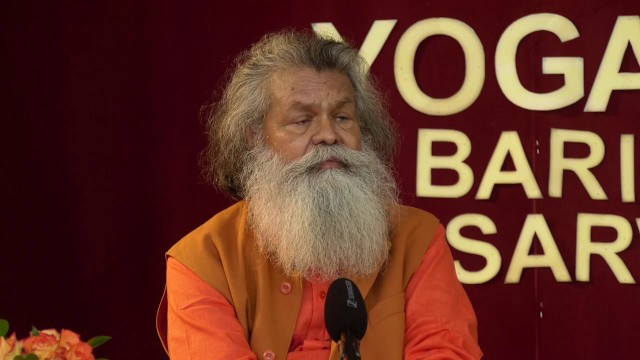 Morning satsang from Strilky, Czech Republic. Unfortunately, many people in the world eat meat. But there are more and more spiritual prople not to eat meat. But some people left Yoga in Daily Life and began to eat meat. Tell the people what is Yoga in Daily Life. Every Gurus teaches their disciples not to eat meat. Eating meat is the cause of some serious illnesses. If you are married you have many responsibilities towards your children.
Around the world - World Peace Conference, Prague 2016 (11/11)
23:00 - 23:09 (9 min)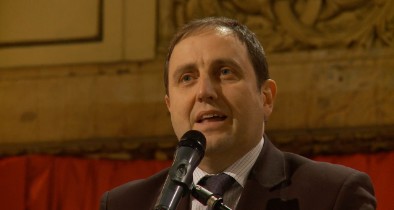 Yoga in Daily Life – A Path to Non-Violence and World Peace: World Peace Conference, Prague, Czech Republic.
Around the world - World Peace Conference, Prague 2016 (2/11)
23:15 - 23:38 (23 min)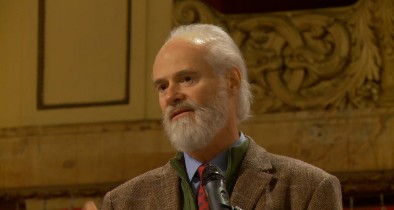 Yoga in Daily Life – A Path to Non-Violence and World Peace: World Peace Conference, Prague, Czech Republic.
Yoga and Ayurveda
23:45 - 0:49 (64 min)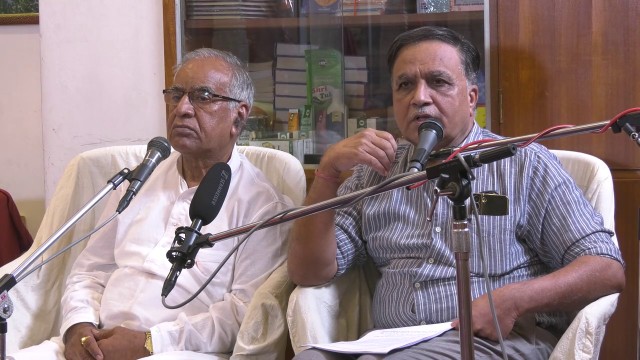 Satsang on the occasion of International Yoga Day. Special guest: Professor Banwarilal Goud, a former Vice Chancellor, an expert in Ayurveda and Yoga. Jaipur Ashram, Rajasthan, India.
Australian
Follow the words of the Guru continuously
20:50 - 21:44 (54 min)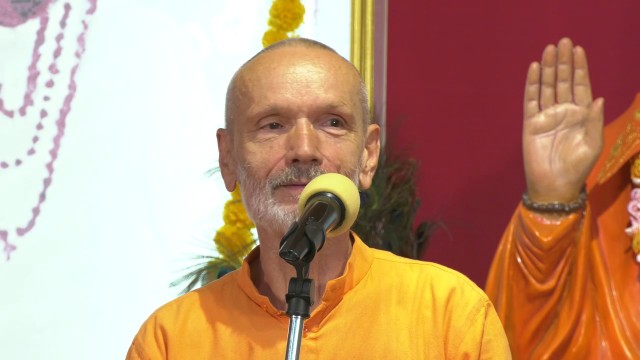 Evening satsang with Vishwaguruji from Jadan Ashram, Rajasthan, India. Swami Sudarsanpuri speaks some words about Guru vakya and Guru seva. We should find the correct way to the seva and the practice. There are many people in Europe and India also who are very disciplined and practise very seriously. Many people from many countries would like to follow Yoga in Daily Life. There are many great saints and Gurus in India. They all are very good. It is very good when families are living together and love children very much. The first Guru was Bhagavan Siva. The story of Siva Parvati and a merchant. Husband and wife should be one. Vishwaguruji organized the next day's work in the Ashram.
We can change the world together
21:50 - 22:46 (56 min)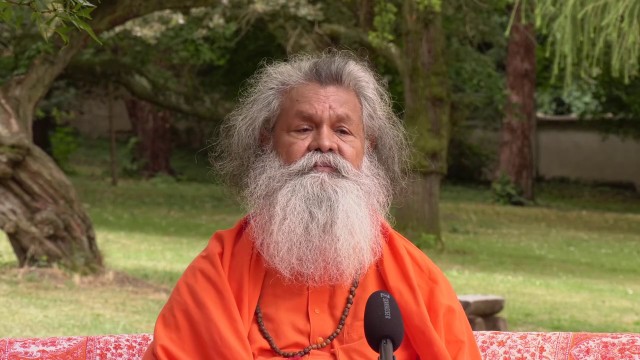 Morning satsang from Strilky Ashram, Czech Republic. Many Indian people also eat meat. Good people Don't eat meat. We also kill many little animals during our sleep. Vishwaguruji has many bites on his body. Many people in the world eat insects also. In the Czech Republic, there are some offices which check the ingredients of foods. If you eat in a restaurant you don't know if are there any insects in your meal or not. British Parlament accepts the traditional Indian sciences such as yoga ayurveda and Jyotish. In the UK there is some research about what will happen to the people after they have got transplanted organs. In this way, some prana also transplanted to the new person what can change him or her. Eating insects is not healthy at all. We should stop to buy that things which are not healthy. Nowadays people do not have enough inner strength. Our strength is that we are together. It is much cheaper to cook at home.
The most Important thing being in Unity
22:50 - 23:23 (33 min)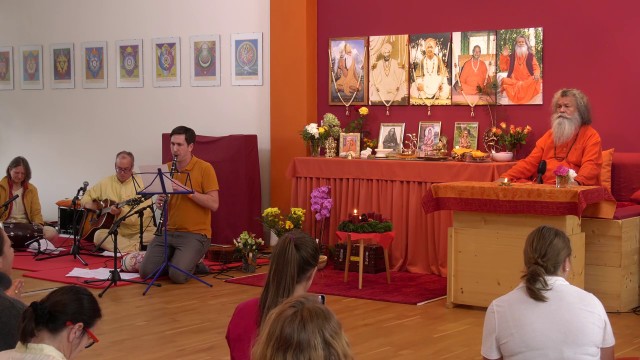 Morning program with Vishwaguruji from Villach, Austria. Come to this Ashram and be happy. Practice and bring good people here. I am very happy to spend two nights here. Now it is the time of holy festival here and in India. The tradition of holy days goes back a long time, without mantra and meditation we would not know what it means to be human.
Our life is a chance
23:30 - 0:20 (50 min)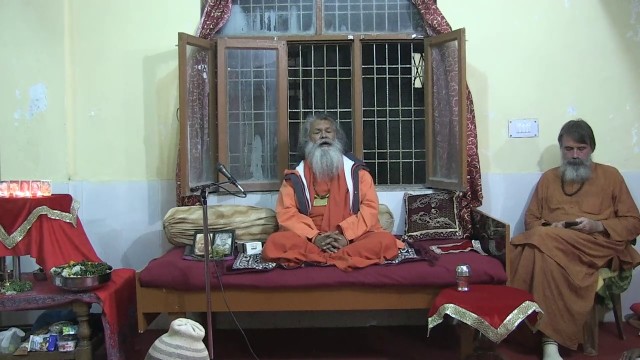 Evening satsang with Vishwaguruji from Badrinath, Hiamalaya, India. Svargaloka is the Heaven Narakaloka is the Hell. Brahmaloka is above them. Every creatures knows what is God. Animals also feel the dawn and the sunset. Human is the most cruel creature of the world. Earth is the planet where Gods can manifestate themselves. Vishwakarman created the hunger so that creatures began to move. Vishwaguruji and other persons could go to Alakhpuriji's cave with the help of some mules. The story of Vishwaguruji and an old sadhu in Fiji. We eat many animals during our life causing them strong pain. Everybody can get libration but when? According to our karma we can be born like some creature. Our soul is the king of our body.